Manage Reports
Manage Report
InventoryPlus support editing the sales bill and other report as per requirements. Editing the report is like editing the word document, there is no special knowledge is required for minor changes.
Goto Settings -> Manage Report tab will list all available supported reports allow the end user editing features.
Click on Edit Report button to start edit the report in report designer.
After updating

the report format click on

Save

button in report designer.

Click on Print Preview button to see how it looks in actual printing.

After editing the report click on Save As button to save the report on your system for future reference as a backup. Same can be restored if required by clicking on Select button on main screen.
After saving

the report click on

Publish

button to publish the edited report. after publishing

refresh

sales screen, the Changes will be reflected in live system.

Select button will be used for Import the report format saved in report designer as Save As. This feature will be used to import the report format received from InventoryPlus support team.

Reset to original button will be used to resetting the updated bill format to original.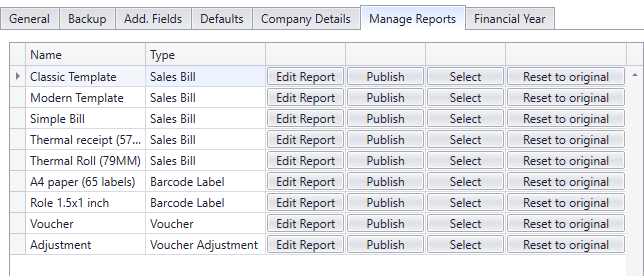 Note:
This screen can be used for view/preview the bill format exists in InventoryPlus software as many format are hidden for free users who using inventoryPlus as free.

For editing the page size in bill template, open bill template in editing mode and in page setup you need to give exact width and height of the page.

After publishing the Sales bill, Goto sales and click on Refresh button to reflect the changes.